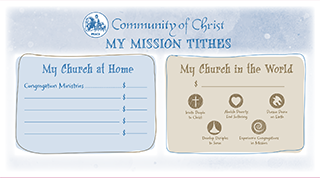 Herald Publishing House
New Tithing Envelopes - pack of 25 (Children's)
Early giving builds the concept of generosity in children. Using their own envelope encourages that concept. Just like the adults in their congregation, young givers can use the forms on the envelopes to indicate where they want their contributions to go.
Sold in packs of 25.
**If ordering more than 20 packs, please email sales@HeraldHouse.org to place your order.  Discounts may apply.
---
More from this collection