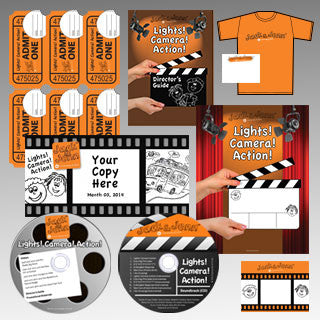 Herald Publishing House
Jack & Jenn Lights Camera Action Kit
Moviemaking-themed kit for vacation church school or classes featuring Jack and Jenn. Includes printed Directors Guide with sample schedules, certificates, Grand Finale outline, Scripture Scenes (lessons, daily scriptures, scenes to act out), Soundtrack (music to hear and sing), Concession Stand (healthy snack ideas), Live Action (game suggestions), Theater Crafts (creative craft ideas), and one promotional event poster.
Also included: CD with six original songs (sheet music and audio files); DVD with five Jack and Jenn videos The Really Big Show, New Girl at School, Hungry to Help, Woodchuck Nature Badge, and The Giant Fish Tank.
Plus, T-shirt design, bulletin insert and nametag templates, banner design, and PowerPoint template.
---
More from this collection