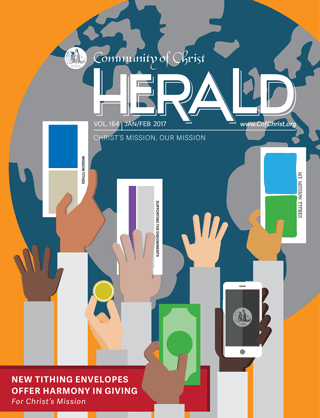 Herald Publishing House
eHerald Magazine: Annual eSubscription
New & Renewal eSubscriptions
The Herald is the denominational magazine of the Community of Christ. Enjoy interesting stories and news about the church, insightful commentaries from leaders and disciples, and inspirational messages from around the world with full-color photographs and art to complete each story. This award-winning publication is currently produced and distributed bi-monthly in English by the church publishing division, Herald Publishing House, USA.
eHerald eSubscription Information
The eHerald eSubscription provides online access to the most current and recent eHeralds for as long as the subscription is active.  Online access is provided through the church's Our Ministry Tools site.
Once your order is placed:
Within 3 business days, you will receive an email with step by step instructions to follow on how to gain access to the eHerald site.
It will take approximately 5–7 business days to be granted access to the eHerald site.
Gift Subscription 
If you would like to buy a subscription for someone else, please email sales@HeraldHouse.org to place your order.
---
More from this collection